If you are using an IP address geolocation service, you most probably already know Ipstack (ipstack.com). The service is operated by Apilayer since 2017 after they bought the open-source project freegeoip.net and they rebrand it to Ipstack.
Ipstack is a great service and some of our customers were also using it before discovering Ipregistry. Do you know why companies switched from Ipstack to Ipregistry? we are revealing the reasons in this side by side analyzis.
Ipstack vs Ipregistry
Comparison between Ipstack and Ipregistry as available in June 2020.
Features
Ipstack
Ipregistry
IP Geolocation
IPv4 and IPv6 support
Partial (can analyze a given IPv6 address but cannot discover the IPv6 address of a user).
Dashboard (usage monitoring, settings management)
Total request count per month only. No hourly or weekly usage details.
Bulk Lookups
Support only 50 IP addresses per request call and you need to pay at least $49.99 for this feature.
Up to 256 IP addresses per request call.
Average Response Time
158ms
24ms
Best Response Time
62ms
10ms
Output Format
JSON or XML
JSON or XML
Response Filtering
Client Libraries
Libraries with caching support and bots exclusion (available in Java, JavaScript, Python and more).
JSONP (deprecated)
Hostname Lookup
Domain and IP Whitelisting
Multiple API keys
Throttling / Rate limiting
You can enable rate limiting per API key or per Client IP (hourly time window).
Usage Reports by Email
User-Agent Data
You need to use a separate service from Apilayer: userstack.com.
Country Borders and Population
Country Flags
Single basic shape.
SVG and PNG files you can hotlink (4 different flavors).
Carrier Data
Company Name and Domain
ISP Company Name only.
IP address Type (business, education, hosting, isp)
Threat Data
Start at $99.99/month. Coarse grain.
Check against 620M entries, updated continuously. Start for free.
Distinction between Tor relay nodes and exit nodes
Pricing Model
Subscription based
Paid plans starting at $9.99/month.
Pay-as-you-go
Recharge starting from $5.
Why companies prefer Ipregistry over Ipstack
Low Response Time
Building a highly available and fast global API requires a lot of expertise. At Ipregistry, our team has more than 15 years of experience building highly available and scalable services. We rely on the best technology stack to ensure a global low latency.
Besides the fact that we provide one of the fastest geolocation and threat data API available on the market, our infrastructure scales automatically on-demand but also serves fresh and accurate IP address data from memory while being refreshed continuously along the days.
A Dashboard to Monitor and Take Actions
Usage Monitoring
Ipstack displays your remaining API calls for the current month. It is also possible to get the number of calls per days. Ipregistry goes further by displaying a nice chart to interpret in a flash your hourly and daily usage for the current month.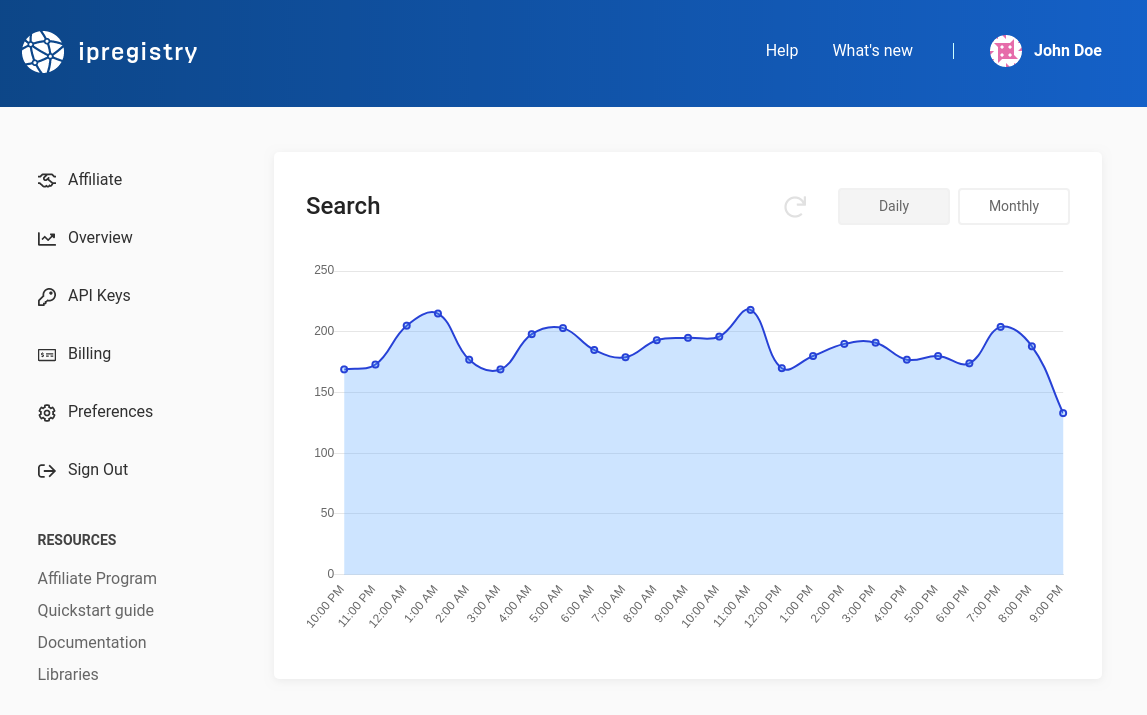 Actionable Options
One important concept in software architecture is separation of concerns. In a Software-as-a-Service API this can materialize by supporting multiple API keys per account. This allows to use one key per isolated concern you might have and thus improving overall security. Ipstack supports only one key per account while Ipregistry does support multiple API keys per account.
The benefit of having more than 1 API key per account is that you can set different settings for different needs. In contrary to Ipstack, Ipregistry enables domain and IP whitelisting: you can restrict what IP or domain is allowed to use a given API key. In addition, throttling is also supported.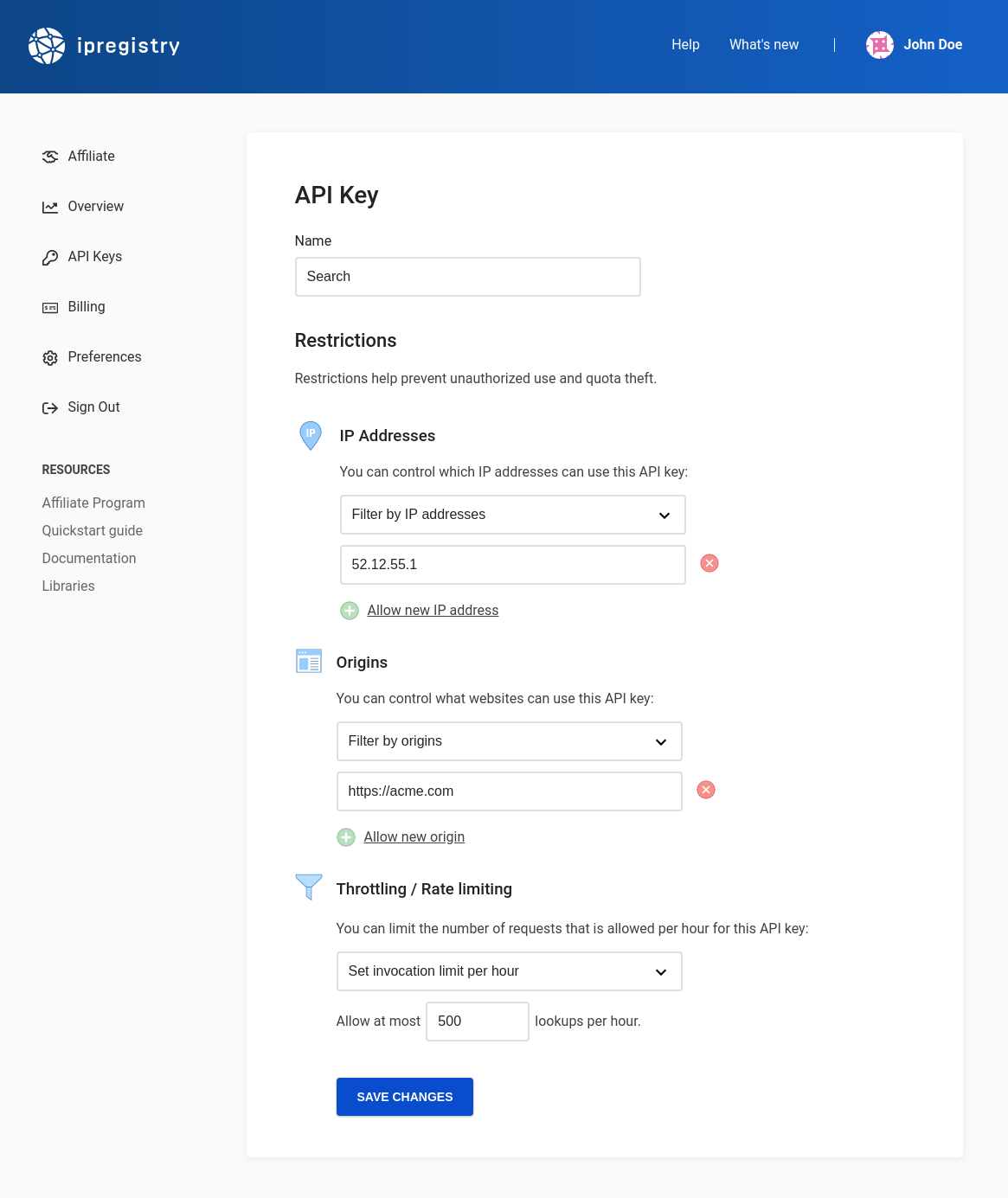 Extensive IP and Threat Data
At Ipregistry we think that IP geolocation and threat data must be accurate, reliable but also fairly priced. Customers trust Ipregistry for these values. However, that's not enough to stay a leader in the market. You need to keep innovating. That's why we listen continuously to our users and keep adding new data fields and features.
Ipregistry returns more than 60 data points, and this keeps improving. Do you need to identify the company and domain for whoever is browsing your pages? Do you want to find out the carrier name, mobile country code, and mobile network code details? In contrary to Ipstack which does not support the required features, Ipregistry enables such use cases. Along with this information and you can even find out if an IP address belongs to a consumer, business, education or hosting provider.
We also provide Enterprise solutions. Ipregistry can adapt to your needs and requirements so that our service fits what you want — we make the box fit around you, not the opposite!
Inexpensive but Fast and Reliable
Ipstack pricing model is based on subscriptions. You have to pay monthly, even if you use only 10% of your quota. However, usage patterns are rarely constant. For instance, an e-commerce website will see big spikes on Black Fridays every year.
With Ipregistry, you pay only for what you use, request by request. Every feature is included with no additional charges. Payment methods include Credit Cards, Paypal and Cryptocurrencies!